Sorry for the delay in posting this week, all this lovely weather and a full calendar spirited the days away while we weren't looking.
We've just had a fabulous weekend! On Saturday Bourne Borderers were invited to dance at the Long Sutton flower festival which is just down the road from us. If you've ever been to South Holland at this time of year you will know that flower festivals, centred around local churches, are a very big part of the social calendar. The displays are always stunning and very well attended with visitors coming from all over the country. It goes on for about a month, culminating in the
Spalding Flower Parade
. Ann-Marie and the rest of the side did two sets with a St George and the Dragon mummers play in-between. Dave was in the perfect position to take pictures, but was overcome by muppetry and failed to take any. Sorry. We'll pinch some off someone and put them up soon.
After it was all over we invited everyone back to our house for a BBQ and an evening round the bonfire, which is how we got to have Morris Dancing in our garden.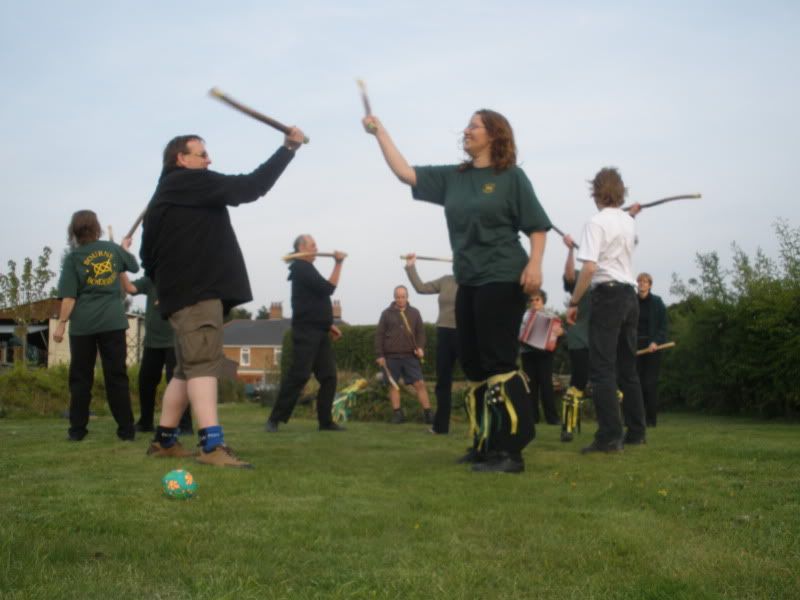 The weather could not have been better and everyone had a good time. We promised them we'll do it again later in the year if we haven't sold the house.
On that note, we had another viewing last week, which meant Ann-Marie rushing home and flying round the house for an hour before they arrived, all to no avail. Those who know these things reckon that house buyers make a decision within eighteen minutes of arriving. We think these two were well below that!
Sunday was a bit dull to start with, so we had an unusually lazy morning. It brightened up in the afternoon though, so we made a start on the fence line behind next door's garage. This turned into a major project with fence posts coming out and new flower-bed borders going in. The result was worth all the hard work; The pathway up between the sheds and past the deck looks wider and so much neater now.
On the workshop side of things, Dave went to the scrap yard this week with a trailer full and came home with £55. Result! The lino is down in the Kon-Tiki and the roof box is mended and back on top. (We think someone at sometime went under a low branch!) It's now having its wheels painted so we can get shot of the hideous blingy wheel trims that it came with. There are a few other little jobs that need doing in the van but none of them need workshop facilities so we can do them on our travels. Dave is now going to get on with the last car on his list; the Plums & Custard 2CV Dolly.
This week's scores - ticked off lists; 5, added; 1. That's more like it!.